Oil Change near Me
---
Have you noticed an oil can light popping up on your dashboard? Does your vehicle's engine seem like it's not performing as it normally does? It sounds like your vehicle may need an oil change. At LaFontaine Family Deal, our qualified service technicians are here to put an end to your search for an "oil change near me."
Our professionals proudly take care of oil changes job in no time, so you can continue cruising around Fenton and Lansing, Michigan, with ease. Are you ready to learn how our technicians change your car's oil, how to spot signs you need to have your car's oil changed, and why you should change the oil regularly? Then, keep reading below to learn more.
---
Visiting Our Service Center for an Oil Change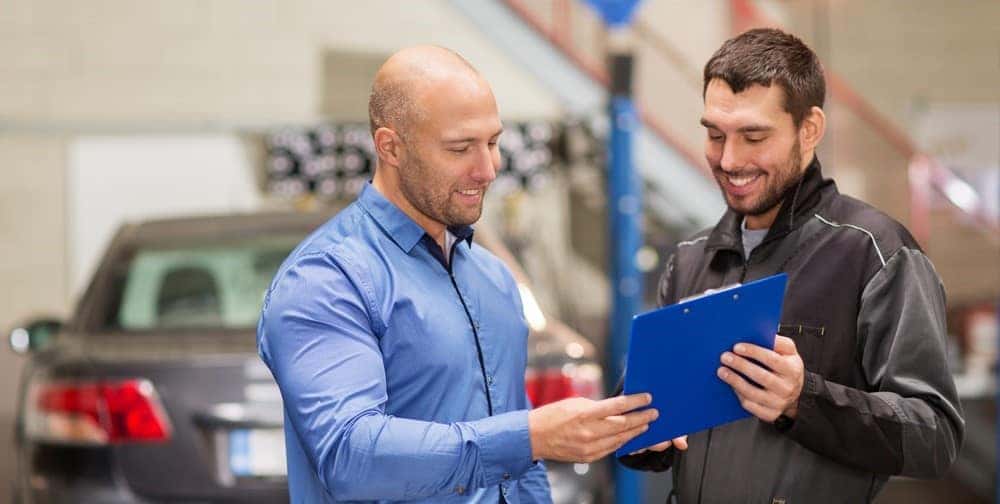 When you bring your vehicle to our state-of-the-art service department, you'll meet one of our qualified service technicians, who is prepared to get you back on the road quickly!
Oil changes are a simple job. As every make and model of vehicle is different, our technicians strive to be well-versed in all oil change procedures. Along with staying up to date on new methods, they also have access to the latest technologies, tools, and equipment to make every oil change fast and efficient.
All you have to do is schedule an appointment at our facility, either online or by phone, and then drop off your ride. If you'd prefer to wait for your vehicle while it's being worked on, feel free to utilize our cozy service center lobby. You can potentially be in and out in under an hour.
---
Our Expert Oil Change Procedure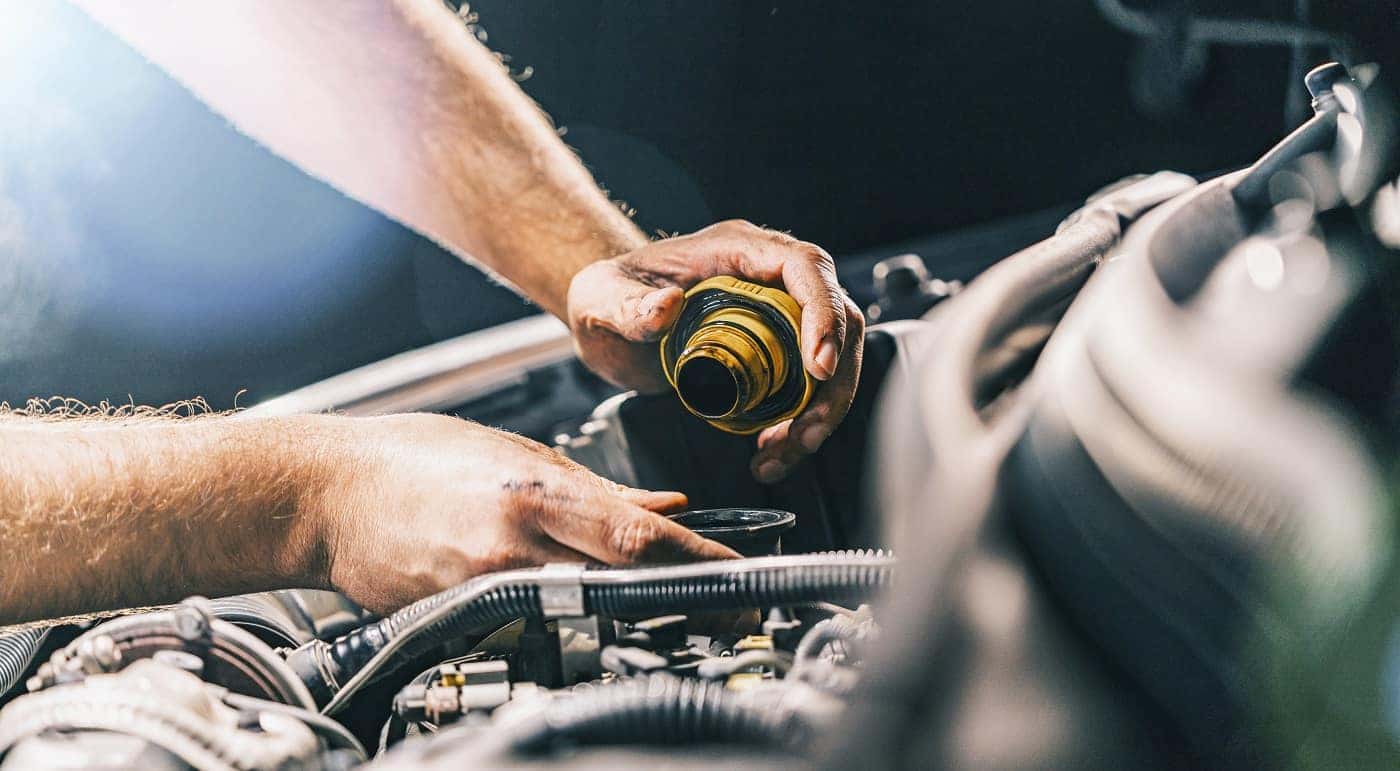 What does our team do during an oil change? At our dealership, we understand wanting to know what happens with your vehicle behind the scenes, so we're here to break it down for you.
When you bring your car into our facility, our team will perform a quick inspection and then get to work. First, they will drain the old and dirty oil, making sure it is all removed from the engine. Then, the vehicle is replenished with fresh oil!
Your model's oil filter and drain plug washer are also replaced to prevent any leaks or damage in the future. Plus, our technicians always use the correct oil and filter specified by your vehicle's owner manual, so it continues to run in top condition.
Finally, our experts will run the vehicle to ensure no leaks or other issues are present. Then, they'll hand the keys back over to you, so you can enjoy a smooth and efficient ride to your next destination.
---
When To Schedule Your Next Oil Change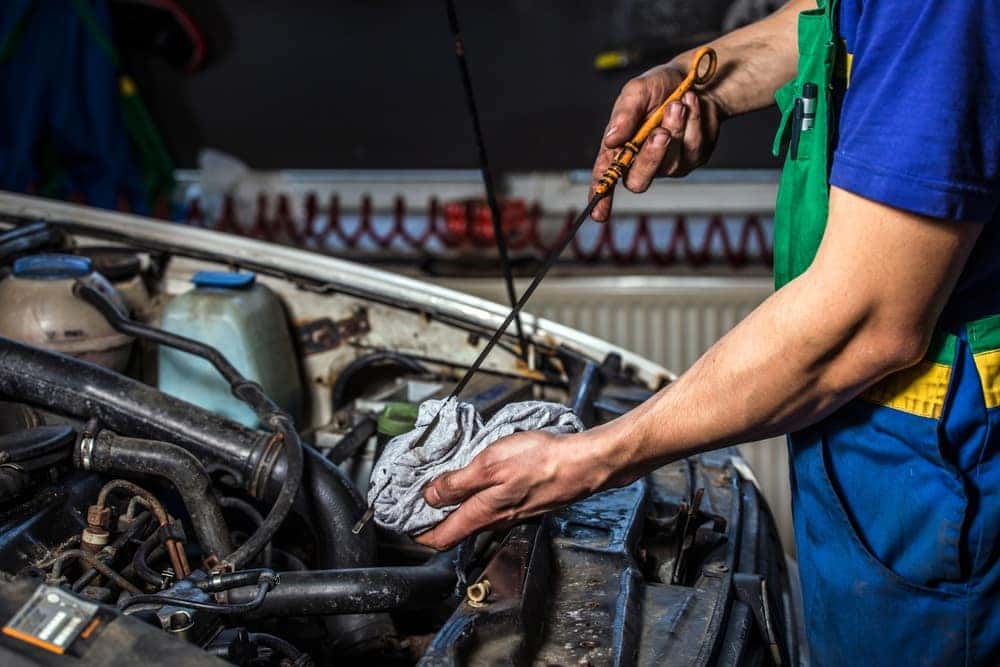 Every vehicle is engineered differently, so has varying recommended oil change intervals. However, there are some rules of thumb you can go by to ensure your vehicle is always equipped with fresh oil.
For example, most modern vehicles can travel anywhere between 5,000 and 7,500 miles between oil changes, especially if they use synthetic oil.
Do you drive a model that uses conventional oil or has a turbocharged engine? Oil changes every 3,000 to 5,000 miles are best for your vehicle. If your set of wheels has a diesel engine, you may be able to wait until the 7,500- to 10,000-mile mark.
Besides what equipment and oil your model uses, other factors may play a part in how often it requires an oil change. If you fall into any of the following categories, you may want to schedule your changes more often:
You drive in dusty or highly polluted areas
You frequently tow and/or haul heavy loads
You find yourself in lots of stop-and-go traffic
You commute often in extreme weather—very hot or very cold
Not sure when your last oil change was performed? The best way to see if your set of wheels needs fresh oil is to check it yourself. Checking your oil at least once a month is a good habit to get into. There are also warning signs you can watch for.
---
Signs You Need an Oil Change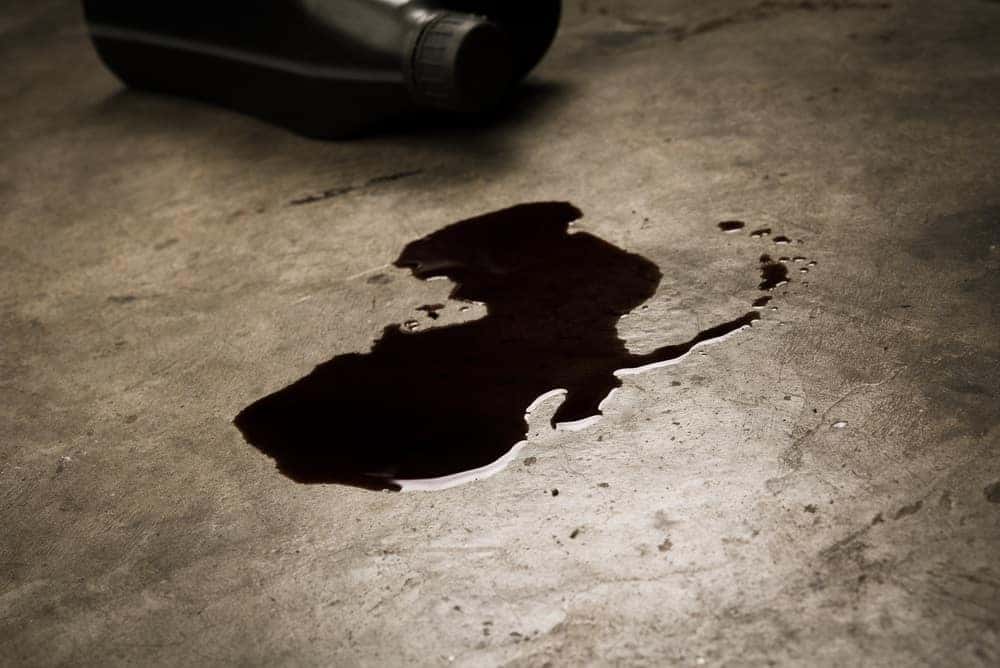 Has your vehicle begun to shake while it's idling? Every time you try to start your car, does it make ticking noises? These are a couple of signs that your model may need an oil change. However, there are more to watch for as well.
The next time you're behind the wheel, be aware of these warnings that your model is ready for an oil change. If you spot any, schedule an appointment at our service center right away!
Excess Vehicle Exhaust: Excess exhaust indicates that the motor oil is too old and dirty to function properly.
Falling Oil Level: While you can top off the oil to extend the time between proper oil changes, it's important to watch for rapidly decreasing oil levels, which could point to oil system problems.
More Mileage Than Usual: If you spend a lot of time on the open road, between vacations or business trips, you should bring your vehicle in for an oil change after putting significant miles on it.
Increased Engine Noise: Motor oil lubricates all parts of your vehicle's engine, so they can work together smoothly. Dirty oil can cause your engine's parts to make noise while in motion.
Irregular Oil: When checking the oil level at home, make sure to watch for irregular or gritty texture, dirty or dark oil, or a burnt smell, all of which indicate it's time for fresh oil.
---
Why You Should Change Your Oil Regularly
Motor oil functions in three ways. It lubricates the internal combustion engine, cools down the engine, and cleans its parts. By regularly changing the oil, you can maintain your vehicle's engine health for many years to come. The engine will also be able to perform better and more efficiently, with fresh oil under the hood.
For the eco-conscious driver, changing the oil at recommended intervals makes it easier to be green. Going a while without changing the oil allows it to get dirty, which then produces noxious engine emissions. Besides not polluting the air, keeping up with oil changes can help you achieve better fuel economy.
---
Schedule Your Oil Change at LaFontaine Family Deal!
Does your vehicle need an oil change at a dealer near you? Stop by LaFontaine Family Deal. We proudly serve all drivers in Fenton and Lansing, MI. We're ready to make sure your ride stays healthy and running smoothly for years to come.
---