Oil Change near Me
Used Vehicles Service DepartmentContact Us
Have you noticed an oil can light pop up on your dashboard? Does your engine seem like it's not performing like normal? Sounds like your vehicle may need an oil change. At LaFontaine Family Deal, our qualified service technicians can take care of the job in no time, so you can continue cruising around Michigan.
On this page, you'll learn how our technicians change your car's oil, how to spot signs you need to have your oil changed, and why you should change your oil regularly. Keep reading below to learn more.
---
Our Oil Change Procedure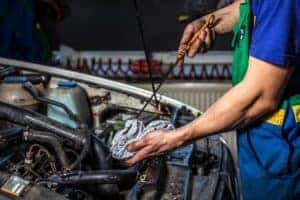 When you bring your vehicle into our service center, you'll meet one of our qualified service technicians! Oil changes are a simple job, so if you'd prefer to wait for your vehicle, you can potentially be in and out in under an hour.
During an oil change, your vehicle's dirty oil is removed from the engine and replaced with fresh oil. The oil filter will also be changed at this time.
If you prefer at-home car projects, you can change your oil yourself. However, if you are unsure of how to get started or have any other questions, our team of technicians is readily available to help you however they can.
Signs You Need an Oil Change
Has your vehicle begun to shake while it's idling? Every time you try to start your vehicle, does it make ticking noises? These are just a couple signs that your vehicle may need an oil change. Read on below to learn more signs to watch out for:
Excess vehicle exhaust—Excess exhaust indicates that the motor oil is too old and dirty to function properly.
Falling oil level—While you can top off your oil to extend the time between proper oil changes, it's important to watch for rapidly decreasing oil levels—which could point to oil-system problems.
More mileage than usual—If you spend a lot of time on the open road between vacations or business trips, you should bring your vehicle in for an oil change after putting significant miles on the car.
Increased engine noise—Motor oil lubricates all parts of your vehicle's engine, so all parts can work together smoothly. Thin oil can allow your engine's parts to make noise while in motion.
Irregular oil texture—If you check your oil levels at home, make sure to check for any irregular or gritty texture, which can point to oil issues.
Why You Should Change Your Oil Regularly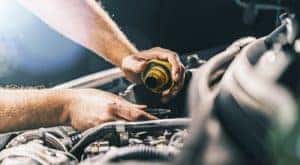 Motor oil functions in three ways: it lubricates the internal combustion engine, cools down the engine, and cleans its parts. By regularly changing your oil, you can maintain your vehicle engine health for many years to come. Your engine will also be able to perform better with fresh oil under the hood.
For the eco-conscious driver, changing your oil at recommended intervals makes it easier to be green. Going awhile without changing your oil allows your oil to get dirty, which then produces noxious engine emissions. Besides not polluting the air, keeping up with oil changes can help you achieve a greater fuel economy.
---
Have Your Oil Changed Today
Need an oil change at a dealer near you? Stop by LaFontaine Family Deal near Ann Arbor, Michigan!