When to Change Tires

Have you noticed a few bubbles and bulges in your tires? Are there signs of some uneven wear and tear on your wheels? Does your tire's tread depth look extra thin lately? If any of the above signs resonate with you, this is a sign you'll need to have your tires changed.
Are you interested in learning the ins and outs of when to change tires? Keep reading our informative guide below where we will discuss the basics of tire replacements. Once you brush up, you can give us a call at LaFontaine Family Deal near Fenton and Lansing, Michigan, to set up a tire change.
When Should I Change Out My Tires?
Tires are an essential part of all vehicles. In order to maintain your vehicle's reliability and to ensure your safety on the streets, you can look out for these warning signs:
Bald tires: If you're unfamiliar with the term, a bald tire is essentially a drastically worn-down wheel. There is no tread on it. In order to drive safely, your tires need to have some tread for when you need to brake or corner.

---

Cracked or gouged sidewalls: Your wheel's sidewalls can become damaged through aging, rain, ice, or poor alignment. Damaged tires are very unsafe and will need to be switched out as soon as possible.

---

Uneven wear and tear: A good way to keep an eye on your vehicle's tires is to look for any abnormal wear. This can be caused by improper tire pressure or misalignment. When the wear gets extreme, it's time for a tire replacement.

---

Expired tread wear warranty: All tires have a tread wear warranty that ensures their longevity. However, once this warranty expires, it's recommended to have your tires checked out and possibly renewed.

---

Shaking while driving: While a bumpy ride is common on rocky roads, something may be going on with your tires when your vehicle is shaking on a freshly paved road.
How We Change Your Tires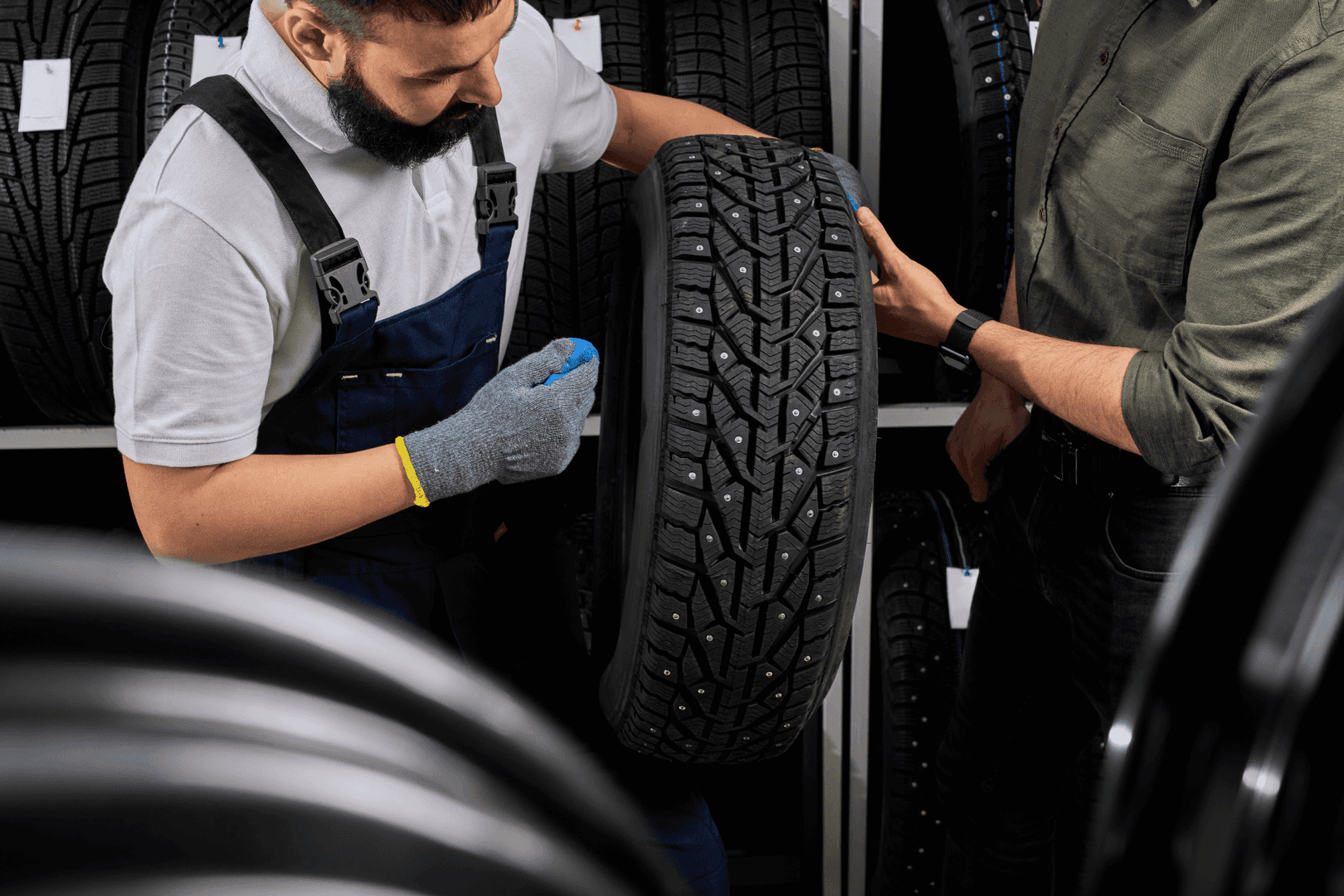 If you've noticed any of the warning signs above, it's time to pick out a set of new tires! Depending on your location and what kind of weather you experience, you may want to pick out specialty tires like All-Season tires, Snow/Winter tires, or Sport tires. Once you pick out your new wheels, our technicians will start replacing them.
The process is very similar to changing out a tire when you get a flat. Our technicians have years of experience replacing tires and will have it completed in a snap. Once complete, they will do a quick inspection of the application to make sure all the nuts and bolts are on tightly. After, it's time to test out those new wheels!
Why Are Tire Changes Necessary?
Did you know that your vehicle's tires are one of its most important safety features? Not only do new wheels give you a smoother ride on any street or boulevard but changing out your tires when needed helps keep you safe. Wheels with excellent tread can make braking more seamless than if your tires were bald.
Compromised grip on your wheels can also be very unsafe. To stay out of harm's way, you should change out your tires when necessary or according to your maintenance schedule. You should schedule routine tire rotations to avoid wear and tear as well. Tire alignments can also benefit your tire's health.
Ready to Have Your Tires Changed?
Now that you know when to change tires, stop by LaFontaine Family Deal near Fenton and Lansing, MI, for a tire replacement. Schedule your appointment online today!