When to Replace Engine Oil and Filter
Did you recently get a new car and need to know when to replace the engine oil and filter? If so, our team at LaFontaine Family Deal has the answer you're looking for. While the time frame can differ depending on the vehicle manufacturer, you can change your vehicle's oil every 5,000 to 7,500 miles at the earliest.
Want to learn more about why you should have oil changes regularly performed on your vehicle and what signs you should watch out for? Keep reading below to extend your rides around Fenton and Lansing, Michigan!
Signs You Need an Oil Change
While you can expect to get an oil change every 5,000 to 7,500 miles, there are a few warning signs you can look out for when time is up. Keep your eye out for any of these signs:
Smoke coming from the exhaust: When you drive, it's completely normal for steam to come out of the exhaust pipe. However, if smoke releases from your tailpipe, this can point to a much-needed oil change or more serious engine complications.

---

Abnormal engine noise: When your vehicle's motor oil is going bad, it can cause your engine's parts to make noise when in operation. In order to fix this, bring your ride into our auto body shop for a quick oil refresher.

---

Ticking sounds at startup: When you try to start your engine, is it struggling to turn over? Are you hearing an unfamiliar ticking noise? This is a sign that the motor oil has an improper texture, thus, taking more time for the engine to turn over.

---

Abnormal oil texture: If you regularly check your oil at home, you may notice a darker, grittier appearance to the oil when it needs to be replaced.

---

Falling oil level: If your oil level keeps falling even after topping it off, this can point to a problem with the oil system. It's best to bring your car into the shop for an oil change and further inspection.
How We Perform an Oil and Filter Change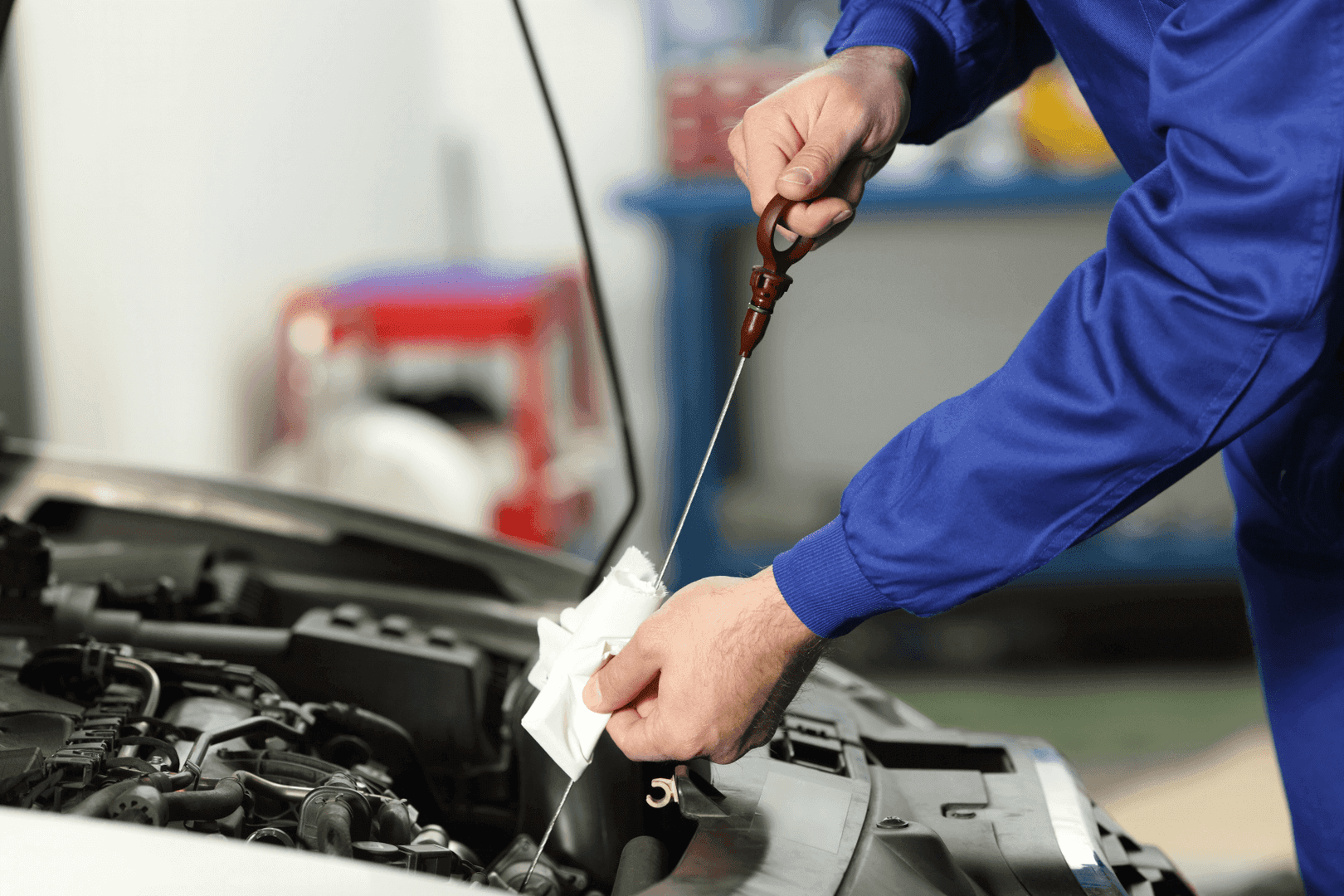 Oil changes are a quick service. With that being said, our technician's procedure for oil changes is fairly simple. First, they will remove the old oil filter and drain out the gunky oil still in the reserve. Once cleaned out, they will replenish your vehicle's oil with its recommended type and install a new filter.
After, they will perform a routine checkup to make sure everything under the hood looks good. Once complete, you're all good to go!
Why Routine Oil Changes Are Important

Oil changes are what help your vehicle maintain its stellar engine performance. Because motor oil helps your vehicle's engine parts work together seamlessly, it's imperative that you consistently replenish its oil, so all parts keep working normally.
Oil changes also get rid of any gunk or debris. When there is an accumulation of sludge in the engine, it can cause it to run slower and less efficiently. Going without regular oil changes can cause your engine to overheat as well as engine oil helps keep your engine cool.
Ready for an Engine Oil and Filter Replacement?
Now that you know when to replace engine oil and filter, stop by LaFontaine Family Deal near Fenton and Lansing, MI, for your next oil change. Schedule your appointment online today!